When higher test scores are a district's only goal, a negative spiral ensues that crushes student agency and test scores. However, when student agency is the goal, a positive spiral ensues that will drive improved student outcomes in all areas, including test scores.
The good news is that many pedagogical approaches foster and support student agency, including Project Based Learning, Inquiry, Design Thinking, Game Based Learning and more. The challenge is that when districts use traditional methods to implement them at scale, it seldom works. Our agentic approach and research-based tools lead to improved outcomes for all, at any scale. 
In most top-down implementations of agentic pedagogical approaches (those that foster student agency), the teachers are treated as cogs in a machine and are not, themselves, given the agency that they need. At agentic learning we work with districts to activate student agency by activating teacher agency,and provide teachers with tools and training to become masters of agentic learning.
REFLECT
Our REFLECT app provides a convenient way to collect data that teachers use to inform their own learning process on their way to becoming masters of Agentic Learning.
Dashboards provide individual and aggregated student data for teachers. The Principal dashboard can be configured to view aggregated content area, grade level, and classroom data. The central office dashboard can be configured to view aggregated content area, and grade level data by content area and grade level across the district or for individual buildings.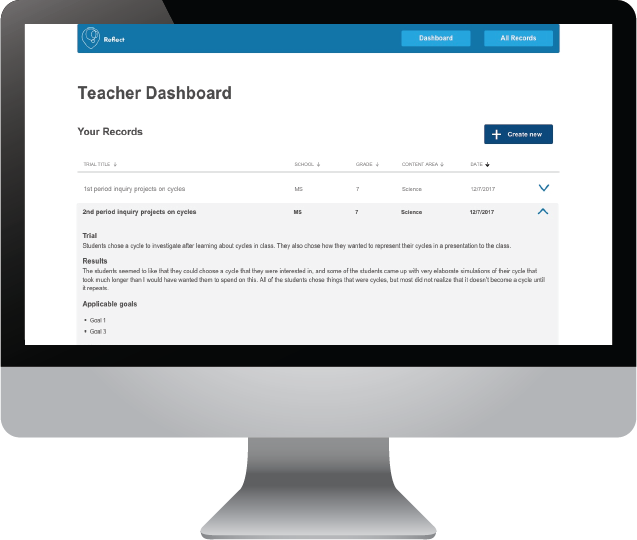 Formal Improvement Process

We work with districts to implement Reflect and develop a Formal Improvement System that fits their circumstances. We help activate student agency by first activating teacher agency.
Agentic Pre- and Post- Assessment

Before and After. We help districts measure their level of readiness and performance in improving student outcomes including academic performance, workforce skills, and agency.
Agentic Leadership Coaching

We provide coaching for district administrators and building leaders in creating environments that support agentic, self-organizing teams with breakthrough performance.
Agentic Teacher Professional Development

We provide professional development for teachers to learn how to effectively implement agentic pedagogies including Project Based Learning, Inquiry, and others in the classroom.
Consulting

We offer consulting services to help districts with strategic planning, professional development planning, visioning and goal setting, and other aspects of implementing agentic learning in the district.
Workshops

We offer workshops in agentic goal-setting, fostering and recognizing student agency in the classroom, fostering teacher agency, and more.